Volunteer of the Year
What is a volunteer? The dictionary definition = a person who performs or offers a service of his or her own free will. Certainly all of our volunteers are deserving of this recognition. The Lighthouse Lymphedema Network has no paid staff. Those who serve, work endless hours simply for the reward of knowing they are helping others especially lymphedema patients, caregivers, family members and medical professionals through our support group meetings, newsletters, brochures, website, Bandages and Garment Fund and our annual medical conference which includes patients. Advocacy is our mission!
CONGRATULATIONS TO VICKY DAY AND BILLIE BARRON, OUR CO-VOLUNTEERS OF THE YEAR 2016!
We are excited to recognize two outstanding volunteers as our 2016 Volunteers of the Year.
CONGRATULATIONS TO THE LLN YOUTH OF THE YEAR RECIPIENTS!
The Lighthouse Lymphedema Network presents the first "LLN Youth of the Year" awards to Justin Cozzone and Kyle Cozzone for their years of service to the LLN. Thank you for being our A-Team and helping our vendors to set up for various LLN events.
CONGRATULATIONS TO Larry Ashmore, OUR VOLUNTEER OF THE YEAR 2015!
CONGRATULATIONS TO VERA NEWMAN, OUR VOLUNTEER OF THE YEAR 2012!
As chairperson of the book committee, she gave us direction and led the committee to create our book The Puzzle: An Inside Glimpse of Lymphedema. This was a project that seemed to grow in intensity, but the committee was diligent in its quest to produce a book that the LLN would be proud of and that patients and professionals would be touched by the stories. The book was written to encourage, educate and inspire patients and loved ones, who can often feel isolated and uninformed. Not every story had a happy ending, yet there is hope. By sharing these stories with one another, we can learn from the struggles and successes that others have experienced and can help each other to live well with lymphedema. Vera serves on our Bellmere Gardens Luncheon, Tour and Plant committee, and our website committee.Vera, we are proud to honor you as our 2012 Volunteer of the Year!
CONGRATULATIONS TO Debbie Labarthe, OUR VOLUNTEER OF THE YEAR 2014!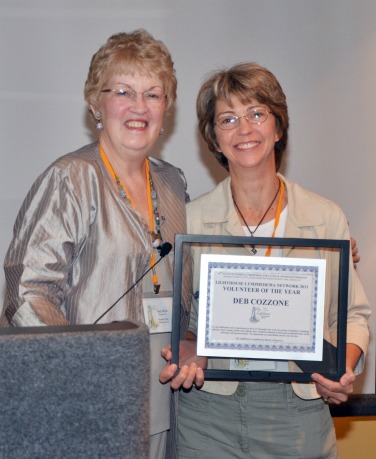 Deb Cozzone, 2011 Volunteer of the Year
Joan White (left) presents 2011 Volunteer of the Year Award to Deb Cozzone (right). "This year, so many have done so much, but there is one person who definitely stands alone in her dedication to the Lighthouse Lymphedema Network. She not only spent endless hours committed to making our book a reality, but she is the administrator of our Bandages and Garment Fund. She is on the legislative committee, serves as our grant writer, and works on the fall conference committee. We would like to recognize Deb Cozzone as the 2011 LLN Volunteer of the Year."
Team Award 2010, Volunteers of the Year
"In recognition of your compassion, dedication, and service to the Lighthouse Lymphedema Network through your unselfish volunteer work to promote, educate and create awareness for all lymphatic diseases. We celebrate you today! Honor you! Thank you! "
Pictured (L to R) Dolores Bradley, Deb Cozzone, Vicky Day, Gwen Forbes-Kirby, Vera Newman, Shirley Tucker, Shelley Smith-DiCecco, Beverly Thompson, Samantha Cannon, Elaine Gunter, Cole Sanders, Gary Gunter, Joan White.
Not pictured: Larry Ashmore, Linda Harman, Stephanie Kirkpatrick, Jennifer Kitt, Clint Labarthe, Debbie Labarthe, Pat O'Connor, Stacy Saraydar, Janie Smith, Lisa Sollenberger, DeCourcy Squire, and Sandi Stephens.
Gary Gunter, 2009 Volunteer of the Year
Gary Gunter joined the LLN with his wife, Elaine, in 2004 when she developed Lymphedema in her leg. They became active members immediately, including serving as members of the LLN Board of Directors. Gary is always a volunteer to be counted on for the LLN. He helps with our annual garage sale fundraiser and he and Elaine have even hosted the sale. For the last 3 years, he has served as the LLN website manager. He works diligently to keep our website information up-to-date and accurate (tricky to do when things are constantly changing). He also handles the computer and Power Point for our annual Lymphedema Education and Awareness Program.
After moving to Atlanta in 1973, Gary received a Master's in Laboratory Administration from Georgia State University. He was the assistant chief of the Clinical Laboratory at Grady Hospital for 11 years and then worked at the Centers for Disease Control and Prevention as a highly regarded IT specialist until 2004 when he very happily retired!. He enjoys the family'
Clint Labarth, 2008 Co-Volunteer of the Year
Our first "Volunteer of the Year" came to our group because his grandson was born with Lymphedema. Carson is our poster child for Lymphedema. He is most fortunate to have an extremely supportive family. Each of the grandparents learned how to do MLD, bandaging, and all have the basic knowledge to take very good care of Carson. Both Clint and Debbie, his wife, serve on the LLN Board of Directors. Debbie as our secretary and Clint as our treasurer.
We are honored to recognize Clint Labarthe as our "Volunteer of the Year" for his talents in accounting, computers and the laughter that he always brings to our group. Thank you Clint for keeping our records perfect. We appreciate you, thank you and honor you on this day for your volunteerism.
Deb Cozzone, 2008 Co-Volunteer of the Year
Our second "Volunteer of the Year" has been part of the LLN for many years. In fact, we all feel like her twins grandparents. When you have Lymphedema and want to be a parent, there are so many options to consider. I can still see Deb at our first Lymphedema Awareness celebration very pregnant for twins, Justin and Kyle. What a loving journey it has been for Deb and her husband, Mike.
Where do I begin to tell you why Deb is so deserving of this recognition. She has served as chair of our silent auctions, has cooked for us at one of our meetings and makes the name tags for our annual conference. Deb is the administrator of our Bandages and Garment Fund. This fund was established in 2004 to help needy patients who have no medical coverage for garments, which we all know most insurance companies plus Medicare do not cover. To date, this fund has helped over 85 needy patients.
With appreciation and love, we recognize Deb Cozzone as our "Volunteer of the Year".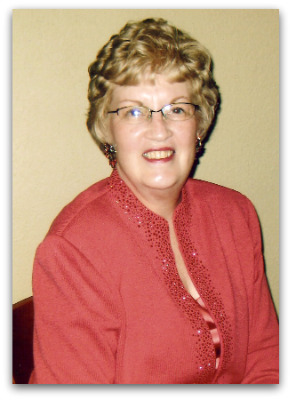 Joan White, 11-Alive Community Service Award
Thursday, April 3, 2008, Hyatt Regency Hotel, Atlanta, Georgia
Joan was recognized for founding and serving as the director of the Lighthouse Lymphedema Network of Greater Atlanta, GA.
"Thank you 11 Alive for this award and giving Lymphedema a voice at this fabulous occasion. To all the 11 Alive winners, you are the backbone of creativity and leadership in our community. May I say, "Hats off to each of you for your volunteerism and sense of community spirit". May all who listen to this telecast, be inspired to step forward and find a cause that lifts your heart. Humor keeps us "happy". Volunteerism keeps us focused and gives us rewards beyond description! Friends are our gifts along life's journey. Family is our true reward. My sincere thanks for this honor."
Linda Harman, 2007 Volunteer of the Year
Our honoree this year started the Lymphedema program at Piedmont Hospital.
She arranged for us to gain participation in the annual Piedmont Hospital Craft Bazaar. The income from this fund raiser helps many needy patients through our Bandages and Garment Fund.
Linda has been your registration contact for this conference. The hours devoted to this volunteer position are endless. She helps with our garage sale fund raisers, represents the LLN at Health and Wellness Fairs and serves on the legislative committee.
Linda, we appreciate you, thank you and honor you this day for your devotion to promoting education and awareness about Lymphedema.
Elaine Gunter, 2006 Volunteer of the Year
"Laboratorian of the Year". Our volunteer of the year was selected by the journals of Laboratory Medicine in 1997 and Medical Laboratory Observer in 2002 for this honor.
During her distinquished career at the Centers for Disease Control and Prevention, she served as Deputy Director for Management & Operations, Division of Laboratory Sciences where she managed a staff of 300 chemists, a $60million budget, a $30 million state of the art analytical instrumentation and contruction of two major new laboratory buildings. She has served as the CDC's specimen repository spokesperson nationally and internationally, participated on chemical and radiological terrorism response teams and served o n numerous NIH and International contract and grant review panels.
She retired from the CDC in December 2005. She is the sole proprietor of Specimen Solutions which provides consultations in specimen banking, clinical study specimen acquisition design and laboratory management and quality assurance issues.
We first met our Volunteer of the Year when she came to our planning sessions for the Georgia Lymphedema Treatment Act. After retirement, she immediately joined the LLN Board of Directors and volunteered to be the editor of our newsletter. When we needed money to help fund our lobbying efforts for our bill, she and her husband, Gary, hosted a garage sale where we made almost $1,000. She serves on our grant writing committee and is always the first to volunteer to help in any capacity.
It is with great appreciation that I present the LLN 2006 Volunteer of the Year Award to Elaine Gunter.
Pat O'Connor, 2006 Appreciation Award
How many of you have heard of the awarding winning website "Lymphedema People". Our honoree, for the 2006 LLN Appreciation Award, officially "opened" this site in December 2003. The website continues to explode throughtout the world and anticipates its millionth visitor. The site sponsors 12 online support groups in 3 countries and maintains a dozen medical blogs on Lymphedema and related medical conditions. He graduated from Portland State University where he served two terms as student body President.
Pat, a twin, was born in 1952 with leg swelling. He was taken from hospital to hospital as the doctors tried to figure out and diagnose what was wrong. In his own words, "My Life is an example of what can happen when Lymphedema is incorrectly treated, or not treated at all. But is also, I hope, an example of what you can do and what a full and exciting life you can have, even with Lymphedema.".
Eventually, he was diagnosed with Milroy's Disease, a hereditary form of Lymphedema. From 1971 to 1973, he has three nine-hour Thompson procedures and numerous skin grafts. These were radical debulking procedures. In 1989, he moved to Atlanta, But it was in 1995 that his life changed dramatically. He discovered a perfect red round spot growing on the calf of his left leg. After the biopsy, it was diagnosed as Mixed B Cell lymphoma. Since 1997, he has loss approximately 75% of the efficiency of his immune system.
His life changed significantly in 2000 when he attended a conference sponsored by the Lighthouse Lymphedema Network. For 47 years, he had never known or met or even talked to another person with Lymphedema. He was sitting in a room full of people who had the same condition or treated this condition.
In 2002, his health started to get progressively worse. He now suffers from almost constant cellulitis, spends house in the emergency room, hospitalizations and additional complications. Unfortunately 2006 has proved to be a challenging year because he is experiencing extensive all over body Lymphedema.
Pat is a member of the LLN Board of Director and is one of our biggest supporters. He serves with the Lymphedema Stakeholders working for Lymphedema patient rights at the Federal level.
Thanks you Pat for educating others about Lymphedema through your website. It is our honor to present you with the 2006 appreciation Award.
Mary Battey, 2005 Co-Volunteer of the Year
It is a great honor to introduce the LLN Volunteer of the Year. This person has been the LLN treasurer for all these many years. Mary is the person who filed for our 501(C)(3) status. Mary has served on the Lymphedema Day Committee, has helped with fund raising, has served on the LLN Board of Directors, and was one of the founders of the LLN.
Lois Craver, 2005 Co-Volunteer of the Year
With appreciation and thanks, we recognize Lois Craver with our "2005 Volunteer of the Year Award". Lois has served on various committees including fund raising, medical conference committee and in any capacity she was asked or volunteered. Lois, our thanks for your dedication to the LLN. We will miss you as you move to Florida.
Beverly Thompson, 2004 Community Service Award
Beverly graduated from the Women's College of Georgia in Milledgeville now called Georgia College & State University with a degree in education. She received her master's in educational administration from the University of Georgia. Her career climbed from the classroom, to a studio teacher on TV to elementary school principal. She is an avid volunteer for her church and for the PTSA at her children schools.
As a native Georgian, Beverly is an active community leader. She is a loyal LLN supporter. She has worked on both our silent auction fund raisers, baked canned pickles, jams, jellies and arrived by 6:00am to work at the Piedmont Hospital Craft Bazaar. She sets an example of community spirit that all of us should follow.
The Lighthouse Lymphedema is proud to present Beverly Thompson with the 2004 Community Service Award.
Libbie Sanders, 2004 Volunteer of the Year
When you think Libbie, you also think Cole. They are two of our favorite people and LLN board of director members. They enjoy entertaining and have welcomed our organization to luncheons, holiday parties and board meetings. Through the generosity of their company, ACS Technology, the LLN was the recipient of a program to use for establishing our mailing and information list.
When the LLN decided we needed a power point presentation for our various events, again Libbie and Cole came to the rescue.
The word rescue seems to best describe these two people. Now they are working on the LLN website. We expect this site to be up and running in 2005. The site will give the LLN schedule of events. It will include all the certified Lymphedema therapists in Georgia and surrounding states. Resources and other good websites will also be listed.
We sincerely thank Libbie and Cole for their commitment to the LLN.
Susan Taulman, 2003 Volunteer of the Year
When Libbie and Cole Sanders very generously donated a program to update our mailing, telephone and general information list, Susan stepped forward and spent countless hours establishing our database. Not only does Susan spend endless volunteer hours for the LLN, she also volunteers at the Shepard Spinal Center and at her church. Susan enjoys yard work and is extremely talented at needle point.
The LLN is fortunate to have Susan Taulman as one of our champions. Our gratitude to our 2003 Volunteer of the Year.